Wild thing, you make my heart sing!
25 & 26 November 2023
Saturday 15-19h
Sunday 11-18h
(10 hours + 1 hr lunch break on Sunday)
Mjesni odbor Voćarska 71
Šalata, Zagreb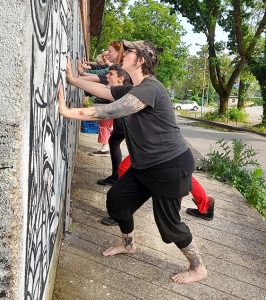 This is a workshop for everyone who wants to be passionate and wild, and express themselves through singing, screaming, shouting, yelling, screeching, growling and howling!
We will discover our unique sounds, various ways of singing wildly, and learn to feel more comfortable with the power of our own voice. We will learn how to use our voice loudly without hurting it, so we can express our emotions safely, both physically and psychologically.
Through suppressive societal and cultural norms we are conditioned to control our expression from a young age, which leads to less authentic behavior and psychological blockages. It can also cause somatic symptoms, tensions and pain. Many people can no longer use their voice in a loud way. They are taught not to, that it is inappropriate, they are afraid, it hurts, they cough, get hoarse or lose their voice, and often it is just exhausting and overwhelming. Let's make it easier!
Our voice is a powerful part of our identity and a tool for liberating and empowering ourselves. Be (again) self-determined and wild!
What will we do, and open up?

– learn various screaming types and whole body power positions to support screaming
– find your unique sounds and apply the techniques to your songs
– use body movements including subtle inner movements
– work with inner and outer criticism, self-censorship, and fear of judgment
– share your struggles with expressing feelings
– release emotional and behavioral inhibition
– offer your experiences to be heard and witnessed, especially painful ones
– shave off layers of conditioning, towards your authenticity
– reveal limiting societal and cultural norms and expectations
– ask for and allow more authentic communication and connection
– connect with innate instincts, inner child and animal nature
– witness the evolution of your voice
– broaden your sense of identity
Who are we?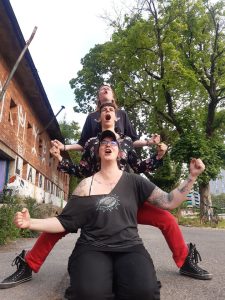 Anna Izpina (on the photo, the one in black clothes, kneeling down) studied Popular Music Education in Austria and teaches singing, mostly individually. She taught herself how to do extreme vocals and vocal effects for the sake of self-expression and fun, always keeping in mind how to do it in a healthy way. Having had problems with her own voice, she invested a lot in learning how to do it right. Her techniques are mainly for singing performances in punk, HC, metal and rock, but they are just as useful for any needed screaming in everyday life!
She is a singer in a punk band called Fuck Sorry!, plays electric bass, piano and drums, as well as does composition. She has experience with bodywork, massage, meditation, martial arts and self-defense which she incorporates into her lessons.
Morana Trenta (on the photo, the one with red pants) studied Process-oriented Psychology (Process Work) in the USA, UK and Slovakia. She has also trained in bodywork and trauma work. She delivers workshops on the importance of addressing societal problems, interconnecting the psychological, collective and socio-political levels in counseling and psychotherapy. She has a psychosystemic counseling practice.
She passionately loves singing and is developing further in this direction. In her counseling work, she loves to playfully include vocal expression, movement, role-play and any kind of creativity.
Together, we love supporting people to find their voice, their expression, their fun in being loud, passionate, silly, angry, powerful, happy, ecstatic and whatever else wants to come out. We are really curious to find out what a person needs, individually or within a group setting. And we just love screaming! In spring 2023, we did our first workshop together, interweaving our approaches, and the participants asked us for a longer one – so here it is!
Registration
The suggested fee for the 10 hours workshop is 50 euros. No one will be turned down due to the lack of money.
Please register at info@dinamika.org
Workshop is limited to 12 participants.
Come as you are, the workshop is suitable for beginners as well as advanced singers, and especially for those with voice problems.
Bring comfortable clothes, a bottle of water and a pen and a paper if you want to take notes and write down your experiences.